Russell Lupins, Lake Tekapo, NZ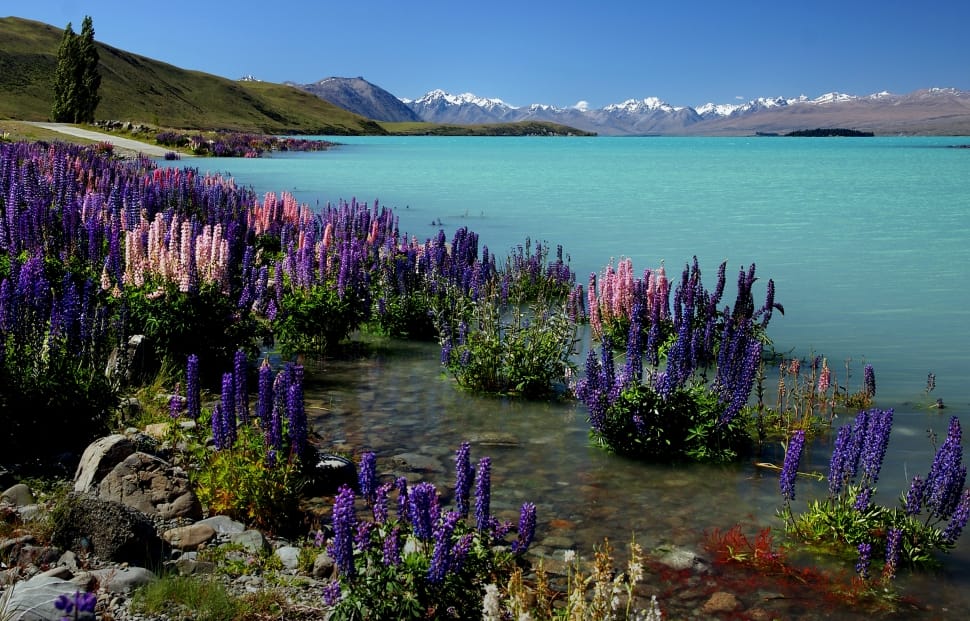 Public Domain
License to use Creative Commons Zero - CC0
Description of this image:
Lake Tekapo is the second-largest of three roughly parallel lakes running north–south along the northern edge of the Mackenzie Basin in the South Island of New Zealand. The Lake is a photographer's dream come true, with snow-topped mountains, turquoise blue lake and a captivating beautiful little church. Every year from mid-November to December, the beauty is enhanced by a colourful display of Lupins. Russell lupine (Lupinus polyphyllus) is an exotic plant that can grow up to 1.5 metres. It is a perennial species – that is, it flowers and sets seed in the summer, dies back to the stem base over winter, to re-emerge the following summer. Russell lupines produce long, colourful flower heads. The flowers are pea-like and come in a variety of colours - blue, purple, orange, yellow, pink, white or a mixture of two colours. The leaves, divided into green leaflets, are splayed out like fingers on a hand. Stout seedpods are produced that explode in the summer heat, releasing many dark brown seeds.
Tags of this image:
Compress image:
Basic information of this image:
Original size:
2400 x 1538
Format:
jpg
File size:
1.34MB
Resolution:
1080P
Uploaded:
Dominant color in image:
Tips:
This image is royalty free for personal and commercial use, You can copy, modify, distribute and perform the image, all without asking permission. But we would appreciate if you could place a link refer to peakpx or spread it in social media. You can paste HTML code below into your blog or website:
Our "SmartResize" technology can intelligently detect the main part of this image and crop it to any wallpaper sizes, you can apply resolutions below to download wallpaper that matches your device.
Select resolution to download this image as HD wallpaper, your screen resolution is :
Customize wallpaper resolution: